Commercial Building Washing Services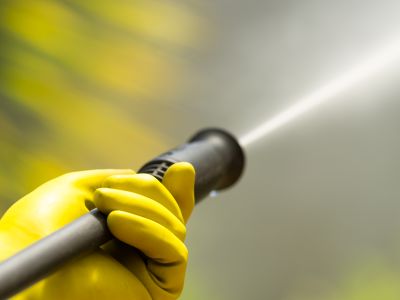 Why do you need New Jersey building washing services? For many of the same reasons, you need a New Jersey pressure washing company to keep the exterior of your home clean.
It is not just important to know why you need professional building washing, it is important to know who to call for this type of commercial cleaning. The company locals here turn to for this type of service is AAA Pressure Wash.
Cleaning Things Up
A common mistake business owners make is failing to schedule building washing on a regular basis. So why is this service so important?
Your exterior is what makes the first impression on potential customers. You can bet a filthy exterior is going to send those customers running in the other direction, right to your competition.
All that grime can actually damage your exterior. Certain contaminants like bird excrement and mold can weaken and, over time, break down your exterior's surface.
The cleaner you keep the exterior, the less likely you are to attract vandals who use it as a canvas for their graffiti. If the exterior already looks neglected, it is more likely to attract this type of negative attention. And once one bit of offensive graffiti is up, more is sure to follow.
The bottom line is that there are plenty of reasons to take care of cleaning your exterior. Savvy businesses know to contact us for their building washing because quality matters.
Let us help you attract customers, instead of scare them off. The sooner you contact us the better off you will be.
The Latest Pressure Washing Articles
Top 3 Reasons You Need Residential Pressure Washing
As a Hackensack homeowner, you have a lengthy list of things to take care of. Unfortunately, that often means that tasks that seem less important get bumped to the bottom of the list. It is vital to understand that house washing is not […]
How to Handle the All-Important Task of Roof Cleaning
The average Fair Lawn homeowner realizes that they need to have their roof cleaned, yet it still tends to get put off. Understanding the importance, the benefits and the process can help you to take this service a lot more seriously […]