Professional Brick Cleaning For Your Home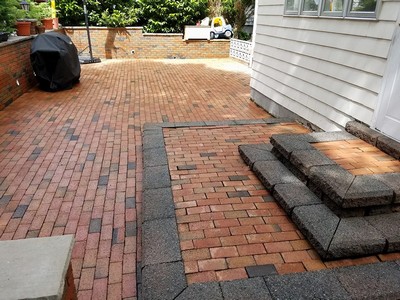 AAA Pressure Wash LLC is the company to call when you're looking for superior results from a brick cleaning expert in New Jersey. Don't settle for just any power washing company, you deserve exceptional results from the company you choose to work with.
Maintenance and care for your brick surfaces is important; it improves the visual aesthetics and ensures that your surfaces maintain the integrity. Give us a call today to make certain that you get the service you need and the outcome that you deserve.
Brick may be built to last but that doesn't mean there isn't a certain level of care required to keep it looking its very best. When you're ready to get serious about brick cleaning, make the wise choice and call us to get the job done.
How You'll Benefit From Professional Brick Cleaning
There are plenty of reasons homeowners prefer brick for their material of choice. It's beautiful, durable, and retains its value over time.
Of course, maintaining it is a large part of making that possible. It's cleaning that shouldn't be done by you; power washing is a job best carried out by trained and experienced pros.
Brick is a porous material and, like unsealed concrete, soaks up a lot of what it's exposed to. That's a reason it's vital to keep it looking its best with regular brick cleaning and related upkeep, like you would with concrete cleaning.
Detergent is used for this softer washing method. To maintain the integrity of your bricks, high-pressure power washing isn't favorable. Although brick is built tough to take on daily wear and tear, there's no reason to possibly compromise that during the cleaning process.
Following up the cleaning with a professional sealing is the ideal way to protect your bricks, long-term.
Without questions, we're a local leading authority for brick cleaning in New Jersey, so give us a call today.
The Latest Pressure Washing Articles
Top 3 Reasons You Need Residential Pressure Washing
As a Hackensack homeowner, you have a lengthy list of things to take care of. Unfortunately, that often means that tasks that seem less important get bumped to the bottom of the list. It is vital to understand that house washing is not […]
How to Handle the All-Important Task of Roof Cleaning
The average Fair Lawn homeowner realizes that they need to have their roof cleaned, yet it still tends to get put off. Understanding the importance, the benefits and the process can help you to take this service a lot more seriously […]