Thorough Concrete and Asphalt Oil Stain Removal in New Jersey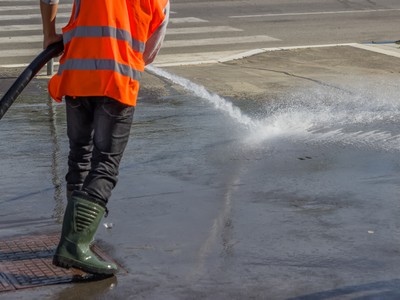 Over time, vehicles may leave all sorts of oil stains and the like on your commercial concrete and asphalt. You'll want to get those stains removed ASAP, as they are not only unsightly but also unsafe. Fortunately, you can get those stains removed in no time by calling the New Jersey pressure washing pros at AAA Pressure Wash.
Our experienced team will get your commercial concrete and asphalt looking clean and new in little time thanks to our oil stain removal services. As quickly as we promise to work, though, we will never sacrifice quality for speed. So, you can be sure to enjoy the highest-quality commercial cleaning services by calling on our pressure washing company.
Keep Your New Jersey Business Safe
While oil stains may be unsightly, a much bigger problem they present is that they become quite slippery over time as they build up. This can make for a decidedly unsafe work environment, and such an environment can prove to be a problem for you for a number of reasons:
Employees may sustain damages
Customers may also sustain damages
You may have to deal with legal battles and loss of productivity
These problems can lead to many problems for your New Jersey business – problems which could even lead to its closing down. Fortunately, you can avoid these problems by giving us a call. With a thorough concrete and asphalt oil stain removal, we'll remove this potential for people to become harmed on your commercial property.
Graffiti Removal to Keep Your New Jersey Business Looking Great
Of course, maintaining a successful business requires more than just keeping the place safe. It also requires maintaining stunning appearances. After all, a beautiful business will help to attract customers while also ensuring that employees are motivated and in good spirits.
By removing unsightly stains and unwanted graffiti from your commercial property, you can ensure that your New Jersey business will look its very best. You can further keep your business looking great with routine building washing services, which we offer on a monthly, quarterly, and yearly basis.
The Latest Pressure Washing Articles
Top 3 Reasons You Need Residential Pressure Washing
As a Hackensack homeowner, you have a lengthy list of things to take care of. Unfortunately, that often means that tasks that seem less important get bumped to the bottom of the list. It is vital to understand that house washing is not […]
How to Handle the All-Important Task of Roof Cleaning
The average Fair Lawn homeowner realizes that they need to have their roof cleaned, yet it still tends to get put off. Understanding the importance, the benefits and the process can help you to take this service a lot more seriously […]