Signs It's Time To Pressure Wash Your Home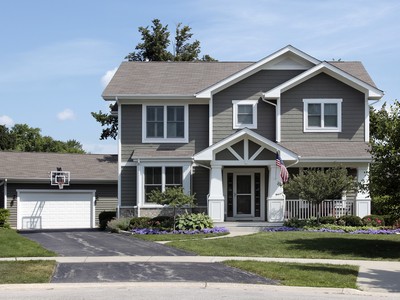 Of course, when planning a family celebration or a get-together with friends, you want your house to look great. The most effective way to make the exterior of your home look like new is to hire a professional pressure washing company.
Many homeowners don't keep in mind that the exterior of their home is exposed to various types of weather throughout the year and is usually not cleaned as well as the interior. This is why you should call the pros at AAA Pressure Wash for your pressure washing needs instead of doing the job yourself, potentially causing damage to your home by incorrectly using a pressure washer.
Not sure if you should pressure wash your residence on your own or if it's time to call an expert? Below are signs it may be time for you to call on a professional pressure washing company like AAA Pressure Wash.
1. Stained Roof
Dirt and debris on your roof encourage mold, mildew, and algae, which can shorten the life of your roof. The ugly black streaks you see there are caused by algae which can eat and damage your roof, and the migration of fungi can be dangerous for your health. Soft washing is a method that can eradicate harmful growth without causing damage to your roof.
2. Discolored Siding
Siding that is dull and dingy lessens the appeal of your home, so if you're dealing with siding that looks older than it should it may be time to have it pressure washed. This is especially important if you are planning to sell your home. Your siding will look like new again after its been pressure washed.
3. Rising Energy Cost
Your home insulation can be faulty if the outside is covered in dirt and algae, which creates temperature fluctuations. This means your HVAC system is working extra hard in order to keep you comfortable. When this happens, the energy unit is compromised and the result is an increased energy bill. A regularly maintained pressure washed home could, in turn, save you money.
4. Flooding Gutters
If leaves, twigs, and other debris are clogging your gutters, this is a definite sign that you need to invest in a professional pressure washing service. If the gutters get clogged, they cannot effectively remove water from your house and cause water damage to the outer walls and foundation. A professional gutter cleaning will allow the gutters to flow freely and eliminate blockage.
5. Weeds and Stains on Your Driveway
Driveways attract mold, mildew, oil and other fluids that can be slippery—causing hazard to you, your family and guests. Weeds growing in cracks not only make pathways look poorly maintained, but their roots can widen the cracks and create unsafe conditions. Pressure washing your driveway increases safety and the curb appeal of your home.
Ready to get your home looking its very best? Give us a call today for a no-obligation consultation on all of our pressure washing options.