Maintain a Safe Workplace with Commercial Disinfectant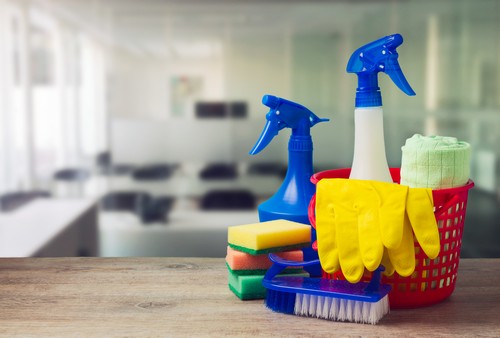 In these unprecedented times, it's more important than ever to ensure our essential workforce is safe and healthy. An effective way to ensure your workforce remains healthy is to invest in commercial disinfectant work from our New Jersey team. We'll ensure your workplace is thoroughly cleaned and disinfected throughout with the many disinfectant services we offer:
Disinfecting Services
Sanitizing Services
Deep Cleans
Hospital-Grade Disinfectants
High Touch Point Area Focus
OSHA, CDC and EPA Compliance
Don't leave your employees' health in doubt. Look to AAA Pressure Wash instead. Our New Jersey general contractors will clean and sanitize every nook and cranny and common area in your workplace to ensure your team members are healthy and your business remains productive and economical in the midst of an otherwise unpredictable situation.
Our Commercial Disinfectant Services: The Reasons Why No Business Should Do without Them
When all of this blows over, you should still invest in our commercial disinfectant work at least once a year. With a thorough cleaning and disinfecting from our New Jersey team, your workplace will remain productive, and your bottom line will only increase. Here are a few reasons why it's essential to invest in this service routinely:
It's very important to have this work handled in the midst of flu season
Disinfecting the workplace can help maintain productivity by reducing the number of sick days being required
Commercial disinfectant services can ensure your business is able to remain safely operable in these unprecedented times
Your customers and employees will have the peace of mind that comes with a sanitized place of business
You Can Count on Our New Jersey Team for Your Other Commercial Needs
While it's, of course, essential to maintain a sanitary work environment, it's also important to give some attention to the look and general cleanliness of it as well. Fortunately, you can still count on our New Jersey team to meet your needs, thanks to our commercial power washing, roofing, flooring, and other services. Call us today to get a quote for any of the commercial services we offer.
The Latest Pressure Washing Articles
Signs It's Time To Pressure Wash Your Home
Of course, when planning a family celebration or a get-together with friends, you want your house to look great. The most effective way to make the exterior of your home look like new is to hire a professional pressure washing company […]
3 Reasons You Should Get Your Home Professionally Pressure Washed This Summer
With the summer home improvement season still going strong, many homeowners out there are having to consider how best to use the remaining time this summer to get the many things done around their house that need to get done […]