Local New Jersey Parking Garage Cleaning Company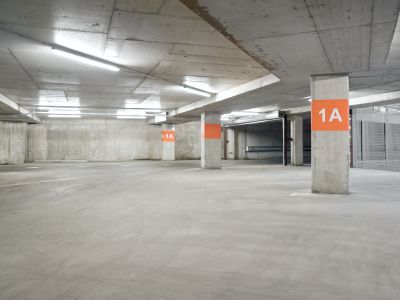 Parking garage cleaning for your New Jersey business is not one of those things that gets as much thought as it deserves. When you think about a parking area you tend only to think of cars, but with cars comes a lot of vehicle and foot traffic.
Things like oil, gum, tire marks, dirt, grime, spilled food and drinks can create a mess of your parking garage and be a hazard to the people walking to and from their cars. AAA Pressure Wash cleaning service uses state of the art hot water pressure washing equipment and the proper environmentally friendly cleaning agents to handle this tough job, including the walls of the parking structure if needed. Our technicians are highly trained in the latest techniques to ensure the best possible results for your parking garage cleaning.
Make the Most of Your Curb Appeal
At AAA Pressure Wash, we are a New Jersey pressure washing company that knows there are many types of brick, and that some brick cannot withstand as much pressure as others can. Rest assured that our team of New Jersey pressure commercial cleaning contractors can adjust the pressure of our power washing equipment to meet these needs, ensuring your brick or block surfaces are not damaged during the process.
So what are some of the common issues that can lead to the need for parking garage cleaning:
Grease
Grime
Dirt
Spilled Food & Drinks
If you are ready to get serious about your parking garage cleaning, give our experts a call.
The Latest Pressure Washing Articles
Top 3 Reasons You Need Residential Pressure Washing
As a Hackensack homeowner, you have a lengthy list of things to take care of. Unfortunately, that often means that tasks that seem less important get bumped to the bottom of the list. It is vital to understand that house washing is not […]
How to Handle the All-Important Task of Roof Cleaning
The average Fair Lawn homeowner realizes that they need to have their roof cleaned, yet it still tends to get put off. Understanding the importance, the benefits and the process can help you to take this service a lot more seriously […]