New Jersey's Premier Deck Cleaning Company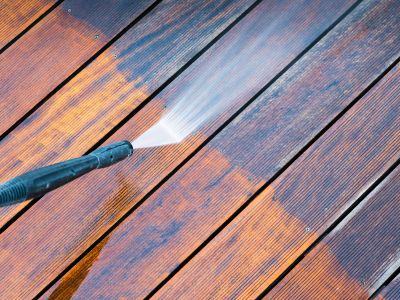 When it comes to finding a deck cleaning company in New Jersey, the only name that you need to know is AAA Pressure Wash. It is hard to imagine the results you will get from power washing for your deck, until you can see it for yourself.
Keep in mind, deck cleaning is about more than just the appearance, although that helps too. Getting regular service for your decking is about keeping it in good condition so you get optimal performance and maximum longevity.
Take Advantage of the Benefits
If you are still putting off scheduling your deck cleaning, here are some things that you should be aware of:
If you are planning on staining your deck, it can't be done until you've cleaned it thoroughly. The process we use will rid the surface of dirt and grime so you have a fresh surface to start with. Wait until it is dry though, to start the staining process.
Professional deck cleaning is an important way to make your deck safe. Slick substances like algae form and make it the ideal conditions for a slip and fall incident. The last thing that you want is for someone enjoying your outdoor living space to take a fall, including yourself.
Contact the best New Jersey pressure washing company around for your service needs. Call on us and expect high-quality power washing workmanship and results.
The Latest Pressure Washing Articles
Top 3 Reasons You Need Residential Pressure Washing
As a Hackensack homeowner, you have a lengthy list of things to take care of. Unfortunately, that often means that tasks that seem less important get bumped to the bottom of the list. It is vital to understand that house washing is not […]
How to Handle the All-Important Task of Roof Cleaning
The average Fair Lawn homeowner realizes that they need to have their roof cleaned, yet it still tends to get put off. Understanding the importance, the benefits and the process can help you to take this service a lot more seriously […]