Commercial Gum Removal in New Jersey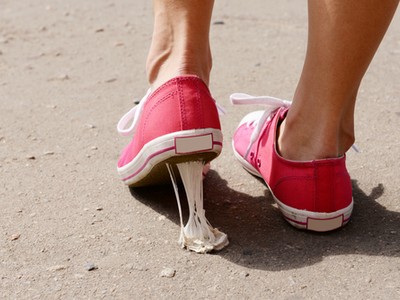 It's important to treat other people's property as if it were your own – but not everyone subscribes to this idea. You'll never be more aware of how true this is than when you find gum carelessly discarded about your commercial New Jersey property, effectively turning it into a large-scale trashcan.
While frustration is surely to be your first reaction to unwanted gum on your property, a far more effective reaction will be to call the pressure washing experts at AAA Pressure Wash. With a professional gum removal, we'll make sure your commercial property is completely free of nasty and lazily discarded gum.
Maintain Your Commercial Building's Curb Appeal with a Gum Removal
In the business world, appearances are everything. So, if your commercial property is a business front, you need to take every step you can to keep it looking its best. After all, with a beautiful commercial building that boasts tons of curb appeal, you can enjoy a variety of great benefits:
You'll attract more customers
Your employees might feel more energetic
Your property value will maintain
Of course, if your commercial New Jersey property were blighted by carelessly discarded gum, its beauty and curb appeal would diminish – along with your likelihood of enjoying those benefits. To get all of those benefits back, get your business looking its best once more by calling us for a gum removal. Combined with a commercial building cleaning, this service will have your property looking its best.
Sanitary Benefits of a Professional Gum Removal
More than being unsightly, improperly discarded gum is unsanitary. It can carry all manners of nasty bacteria and the like, and in large enough quantities, poorly discarded gum can create an overall unsanitary environment.
If your work area contains unwanted gum, your employees could be exposed to bacteria, and this exposure could cause a loss of productivity if those bacteria made them sick. To keep your employees healthy and your business thriving, call us for a gum removal when unwanted gum accumulates on your commercial property.
The Latest Pressure Washing Articles
Top 3 Reasons You Need Residential Pressure Washing
As a Hackensack homeowner, you have a lengthy list of things to take care of. Unfortunately, that often means that tasks that seem less important get bumped to the bottom of the list. It is vital to understand that house washing is not […]
How to Handle the All-Important Task of Roof Cleaning
The average Fair Lawn homeowner realizes that they need to have their roof cleaned, yet it still tends to get put off. Understanding the importance, the benefits and the process can help you to take this service a lot more seriously […]