Your Roof Cleaning Professionals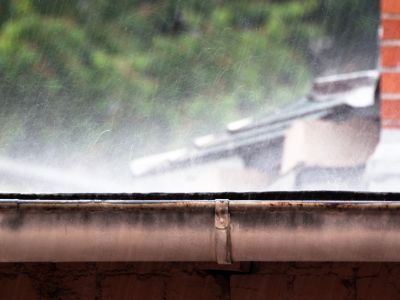 AAA Pressure Wash offers quality roof cleaning services for both residential and commercial application. Our expert New Jersey roof cleaning contractors use gentle, low-pressure roof cleaning tactics to ensure your roofing is not damaged during the process, whether you have metal roofing, tile roofing or delicate roofing shingles.
Black streaks on asphalt shingles is a type of roof algae, and it will only get worse if not taken care of with proper roof cleaning. Algae likes to thrive on the north side roofs where the proper amount of shade is present.
It feeds on the crushed limestone that is used in asphalt shingles. Rain spreads the algae down the roof causing unsightly black streaks.
Eventually, the algae will take over your entire roof. But at AAA Pressure Wash, we can kill and remove the algae, using contractor grade cleaners and low-pressure washing for quality roof cleaning, making your roof look new again!
Making a Difference
Residents of Rutherford, Ridgewood, Fair Lawn and beyond - roof cleaning is essential and not just any pressure washing company should be trusted with it. Just because you can't readily see mold, mildew or algae growing on your roof doesn't mean you should follow the "out of sight, out of mind" mentality.
A dirty roof can wreak havoc on your home and will eventually affect the quality of your indoor air. Get your roof cleaning from AAA Pressure Wash and we will take care to ensure your roofing stays intact and damage-free while our New Jersey roof cleaning experts properly clean your roof and remove any mold or mildew.
The Latest Pressure Washing Articles
Signs It's Time To Pressure Wash Your Home
Of course, when planning a family celebration or a get-together with friends, you want your house to look great. The most effective way to make the exterior of your home look like new is to hire a professional pressure washing company […]
3 Reasons You Should Get Your Home Professionally Pressure Washed This Summer
With the summer home improvement season still going strong, many homeowners out there are having to consider how best to use the remaining time this summer to get the many things done around their house that need to get done […]