Concrete Cleaning Services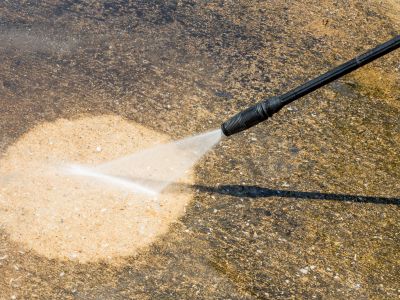 Scheduling concrete cleaning, along with a house wash, is a great way to increase curb appeal. A lot of New Jersey homeowners do not realize how dirty their concrete driveways, sidewalks, and patios are and are amazed at the difference, once cleaned by our professional power washing experts.
AAA Pressure Wash can also remove irrigation rust stains from your concrete, leaving you with a clean surface that looks great. Dirt, rust, mildew, mold and debris all collect and dirty up surfaces over time, and all that accumulated grime can be tough to clean but our expert concrete cleaning will take care of it for you.
Improving Your Home
Contact us today for a free concrete cleaning consultation and accurate estimate of the cost of your power washing project! AAA Pressure Wash – providing residential and commercial concrete cleaning services at an affordable price!
When you want your concrete surfaces cleaned, you can count on AAA Pressure Wash to get the job done right! From concrete patio cleaning to pressure washing concrete driveways, we are the New Jersey painting contractors you can depend on for quality results at an affordable price.
We are a New Jersey pressure washing company committed to using nothing but the best equipment and professional grade cleaners to get your concrete cleaning job done faster! Your satisfaction is guaranteed!
At AAA Pressure Wash we don't believe you should have to contact several different companies when it comes to improving the look of your home or business in New Jersey. One stop service offering!
Whether you are looking for power washing, concrete cleaning, exterior painting services or some other type of repair or remodeling for your residential or commercial property, you only have to make one call to AAA Pressure Wash. We have an expert crew of New Jersey concrete cleaning experts that are ready and willing to tackle your residential or commercial project with precision and ease.
The Latest Pressure Washing Articles
Signs It's Time To Pressure Wash Your Home
Of course, when planning a family celebration or a get-together with friends, you want your house to look great. The most effective way to make the exterior of your home look like new is to hire a professional pressure washing company […]
3 Reasons You Should Get Your Home Professionally Pressure Washed This Summer
With the summer home improvement season still going strong, many homeowners out there are having to consider how best to use the remaining time this summer to get the many things done around their house that need to get done […]